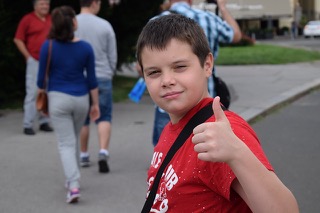 Tips for Keeping Kids Safe in This Stressful Time
March 11, 2020
As concerns about the community spread of coronavirus increase, changes to our daily routines are inevitable. It's safe to say that none of us could have anticipated these quickly evolving, not to mention incredibly stressful days in which we are living right now. With all the concerns and adjustments that each day brings, it may be easy to forget that these factors can increase the vulnerability of the youngest members or our community – children.
These days it's most common for parents to assemble a daily routine for their children that includes a carefully balanced schedule of care from school, community resources and babysitters while parents attend to career and other necessary pursuits. Because of the rapidly changing situation, it is impossible to plan for work and school closures, ill or quarantined caregivers, or after-school and community resource cancellations that happen on a moment's notice. What to do when that routine is suddenly upended for the sake of containing this swiftly expanding threat to the health of us all?
Over- stressed parents may find themselves scrambling to find meager resources for child-care that offer less supervision and safety, increasing their vulnerability to sexual abuse and other harm. We understand that children are more vulnerable when their adult caregivers are excessively stressed or preoccupied, but with increased awareness and mindfulness of safety measures, kids can adjust and will safely come through this challenging time.
What to keep in mind to keep kids safe:
• A huge key to keeping kids safe is awareness. Keeping in mind the reality of your child's vulnerability, especially in new and stressful situations, is a very significant factor in keeping your child safe.
• Do your very best to consider each caregiving situation for your child with the level and care of supervision being top of mind.
• Check in frequently with caregivers and especially with your child. Keep communication open and let your child know that care about their safety.
• Watch for signs that your child is in an unsafe or abusive situation. For more information, read our blog post on how to keep kids safe.
• The health of the adults in a child's life directly impacts their safety and mental health. Practice good self-care and do your best to regulate your own stress.
• Be aware that families with the greatest financial and resource challenges are most vulnerable in this critical time. Step up to support others in your community as you are able.
We're all in this together and as we increase our awareness and join together as a community to stay safe, we may come through this critical time with increased resilience and faith in our ability to support one another!